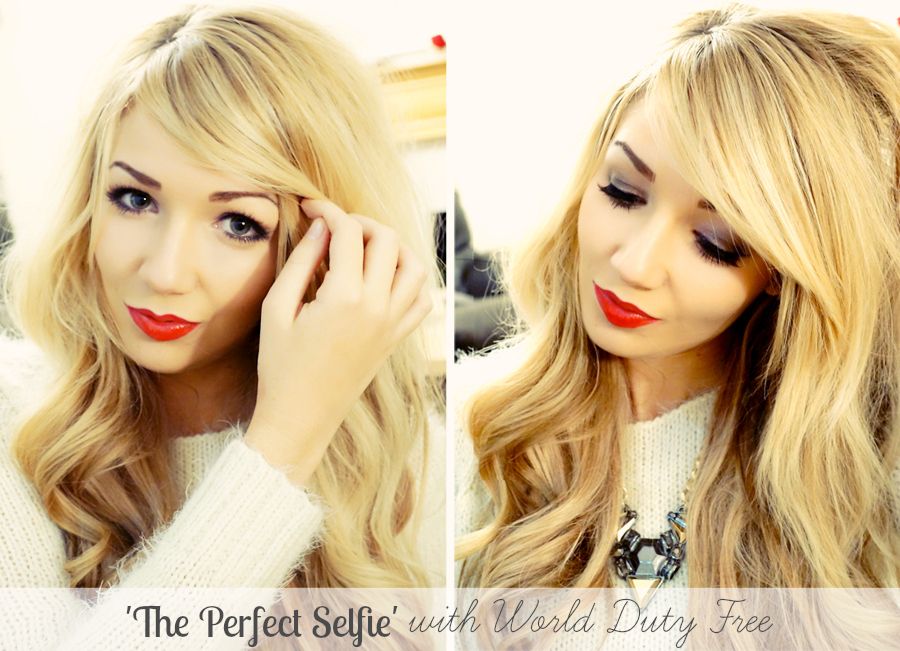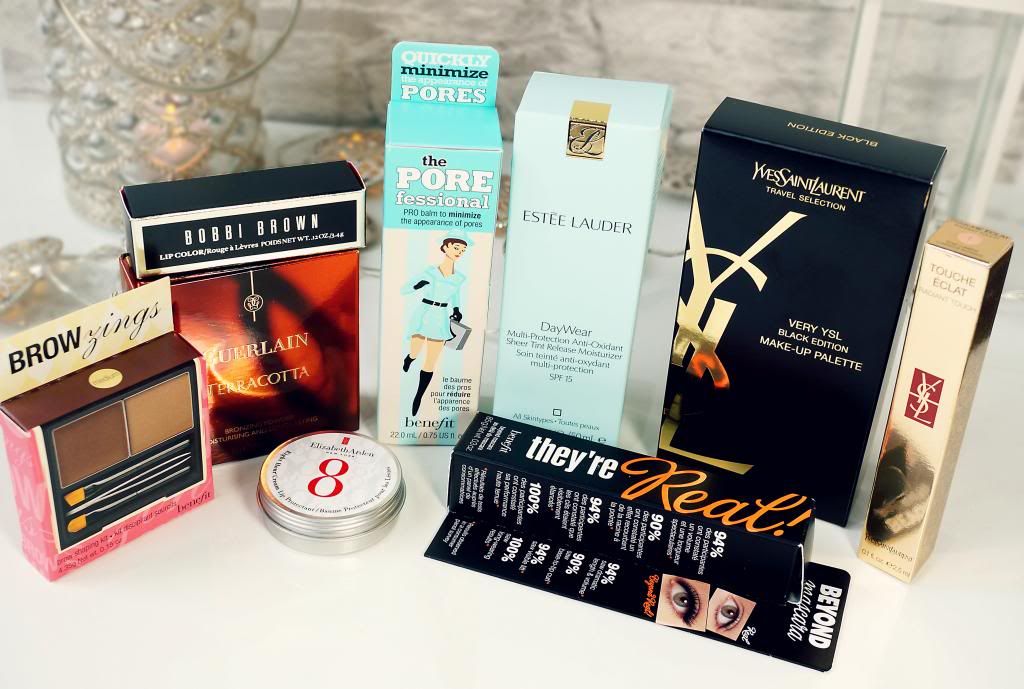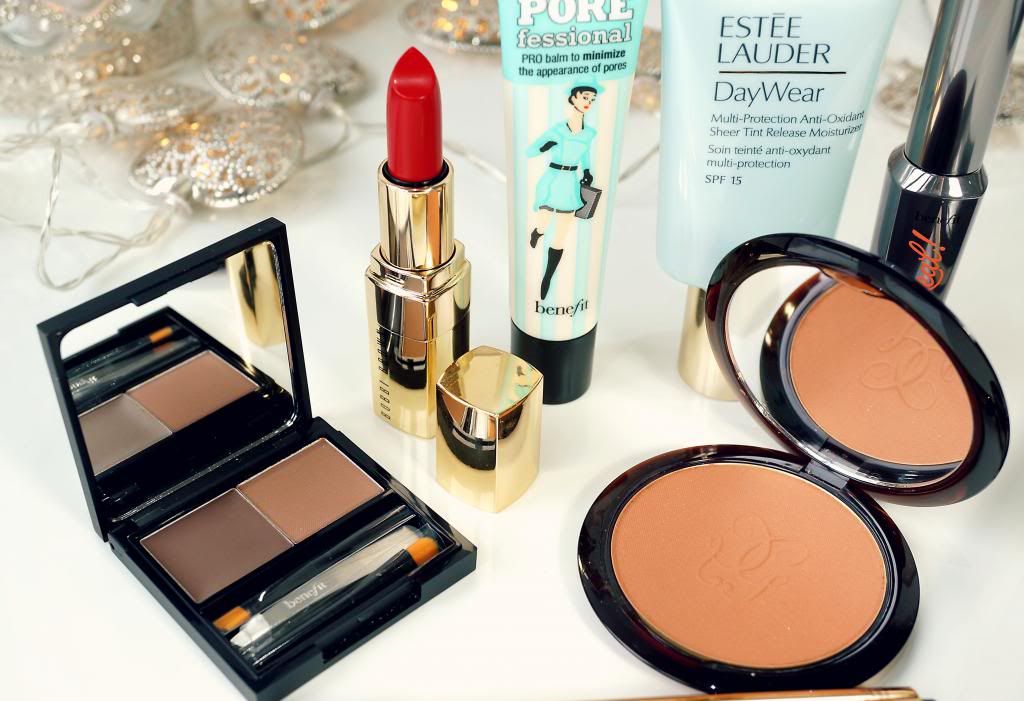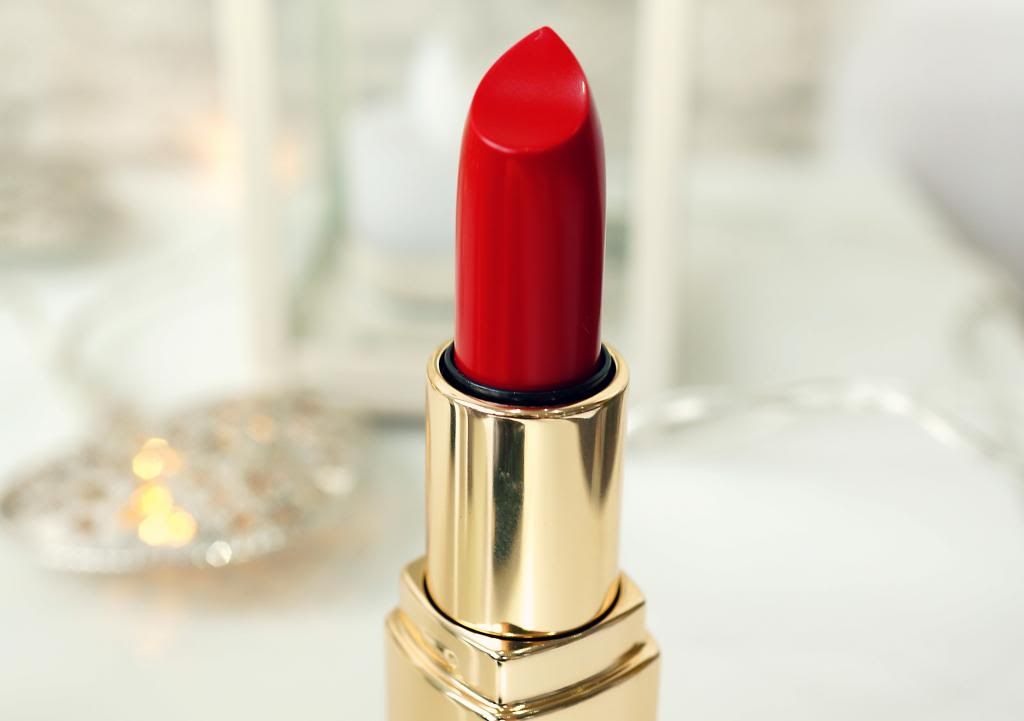 Even at 23, I must hold my hands up and openly admit that I'm not opposed to a selfie or two - who says it's just for the young'uns?! I would bet my lipstick drawer that a large percentage of you reading this WILL snap a cheeky selfie over the next couple of weeks whilst adorning some form of Christmas attire (festive onesie, anyone?) If not, a massive pat on the back to you for refusing to hop on the over-sharing bandwagon! When the lovely bunch at
World Duty Free
offered me the chance to take part in their 'Perfect Selfie' challenge, I thought I'd give it a whirl! They sent me a lovely little package full of goodies to create my perfect 'selfie' look and I swiftly got to work. Since the festive season is well and truly in full swing, I thought I'd create a little party look. I went for smokey eyes and a bold red lip - something I don't often put together - but at Christmas, it's perfectly acceptable to break the 'eyes or lips' rule, right? Plus, red lips and a little bit of definiton around the eyes always photograph nicely!
To create my 'selfie' look, I first applied Benefit's Porefessional Primer - concentrating mainly on my t-zone to help mask any obvious pores. I then applied the Estee Lauder Daywear all over the face using my buffing brush. Usually, I'd wear foundation for a night out look but I was really pleasantly surprised with this. I had a little bit of Clarins Liquid Bronze on at the time, and it allowed that lovely glow to show through without completely masking my face. I'm a massive fan of Estee Lauder and their products always seem to 'mesh' well with my skin - I was really impressed with how smooth it made my skin look for a lighter coverage product. I applied the Elizabeth Arden '8 Hour Lip Balm' to prep my lips ready for lipstick (really loved this!), and applied a small amount of the Guerlain 'Terracotta' bronzer into the hollows of my cheekbones and around my jaw line to contour - as well as a light dusting on my forehead for an extra bit of bronze! To finish the subtle contouring effect I used YSL's infamous Touche Eclat around the under eye area and tops of the cheekbones, down the centre of the nose and a little in my cupid's bow to enhance my lip shape. I've never used Touche Eclat before - so I was really excited to be able to try this cult beauty fave! I then used Benefit's Brow Zings to enhance my eyebrows. I have very light brows and often struggle to get brow products to look completely natural as I do like a bit of definition - especially around the arch. Brow Zings made it a complete doddle and the wax really helped to keep them in place.
After completing my base, I moved on to the exciting bit - my eyes. I used the
Yves Saint Laurent 'Black Edition' Palette
to create a soft, smokey look. This really is such a beautiful palette - it's something I'd definitely take with me when travelling away from home - the large mirror and selection of brushes included make it a lovely compact - especially for the festive season as the colours are so wintery! They all compliment each other perfectly and I instantly fell in love! I used the brown shade all over the lid. It contains small flecks of gold without looking overly glittery so it's perfect for sweeping across the eyelids. I then used the white colour in the very inner corners to open my peepers a little and give them that 'wide awake' look, and then blended a bit of the black shade into the crease and outer corner. Really simple and quick to create! I then curled my lashes and applied a few coats of
Benefit's 'They're Real'.
I actually have a full review of the mascara
here
if you wish to have a read up on it - it is without a doubt one of my favourite mascaras I've used. It really opens up the eyes and makes your lashes appear fuller without clumping - perfect! Of course, no look is complete without a dash of lippie!
Bobbi Brown's 'Hollywood'
is the most amazing pillarbox red shade. I adore it. It really does live up to it's name, that's for sure! It's such a striking red - and doesn't lean too blue or too orange. If you're after a true red shade - I'd really recommend this one. I'll definitely be treating myself to another shade from the range - it was a dream to apply, the pigmentation is amazing and it wasn't at all drying.
Et Voila
- look complete.
Overall - an
amazing
little package from
World Duty Free.
As a blogger of all things beauty, there's nothing more I love doing when I'm going abroad than having a mooch around the beauty bits - I always treat myself to a new product or two before I jet away!
World Duty Free
have some fabulous bargains - it's worth having a check on their site before you jet away - you can even select your airport/terminal for a more tailored selection! There's also some exclusive palettes and beauty goodies on there (it's hard to find the YSL palette online at the moment) - there's nothing like owning something that's hard to get hold of - it just feels that little bit more
spesh
. Of course, I have lots more to say on these lovely goodies so if you're particularly interested in a specific review - let me know!
Any of these products take your fancy? What would be in your perfect selfie kit?!